Failed to configure Linux Server – Veeam Backup and Recovery
Veeam has been embracing Linux servers to host the Veeam backup infrastructure with certain componets being expanded to support running on Linux alongside the Windows infrastructure.  Whilst the Windows side is fairly well understood for those who have been using Veeam for a long time, the Linux infrastructure piece is starting to take hold with many starting to make the move, however there are still some admins who shy away thinking that deploying Linux is 'too hard.' – this couldn't be further from the truth.
While configuring my first Linux server for hosting my Veeam repository, I ran into only 1 issue that was easily solved with ticking a couple of extra boxes.
For this particular server, I was utlising Ubuntu 22.04.02 – the installation was very seamless as the installer walks you through one step at a time.
The issue that I ran into was during the 'Apply' stage of adding the Linux server to Veeam in order to be able to use it for a Proxy or Repository. I received the error Installing Installer service Error: mkdir: cannot create directory '/opt/veeam': Permission Denied.   Those last 2 words there are the hint.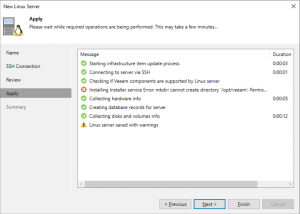 In order to resolve, you will need to update and ensure that the user account has either the right escalated permissions configured on the Linux server or you need to enable and set the credential in the Managed Credentials for the user to have escalated rights.
There are 2 options that you will need to enable under the Managed Credentials, and you can just click backwards in the wizard to update them.
Once you have entered the Managed Credentials, you just need to edit the user in which you want to create the Veeam BR and Linux server connection with. here you will find the section 'Non-root Account' – this is where you will need to select "Elevate account privileges automatically."  By selecting this, you are allowing Veeam to do the heavy lifting by configuring the account as needed.
The next 2 tick boxes allow you to have the account placed in the sudoers file so that it has the full access that it needs to the server. The 'Use "su" if "sudo" fails'  is a fallback option allowing Veeam to be compatible with more Linux distros as some require the use of su rather than sudo  to elevate access.
You will then be required to supply the root password so that Veeam can make the required change for the account access.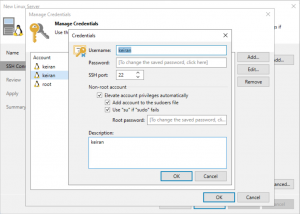 Once the changes have been made, you can then proceed to applying the configuration – you should see the remaining tasks be completed successfully.
From this point, you can add this server to be your repository or proxy, depending on what it is intended for.